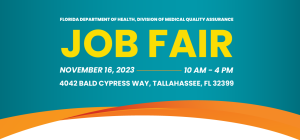 Division of Medical Quality Assurance
MQA contributes to the mission of the Department by upholding a regulatory system that promotes a safe working environment for health care practitioners and ensures that public health and welfare are served through its licensure, enforcement, and information activities. MQA is comprised of three bureaus that collaborate with the Office of the General Counsel's Prosecution Services Unit and 22 boards and four councils to license health care practitioners who meet statutory standards and enforce laws and rules governing health care practitioners.
MQA has a career for you! Explore below to learn about each bureau and available job opportunities.