Answers, options, onward
Medical Quality Assurance (MQA) leverages cutting-edge technology to power the enforcement, licensure, and information chatbot, ELI.
ELI is the best way to learn about licensure requirements, initial application status, renewal requirements, fees, address updates, background screening processes, and public records requests.
In a nutshell
Through a conversational platform powered by trusted content, ELI leverages data and efficient workflows to interpret the user's questions and give actionable recommendations. The platform runs as a chatbot and voice-based application to provide customers with an additional method to contact MQA.
Use the 'chat now' button to begin your discussion with ELI or look for ELI's image in the bottom right corner of your device as you navigate the board and MQA pages.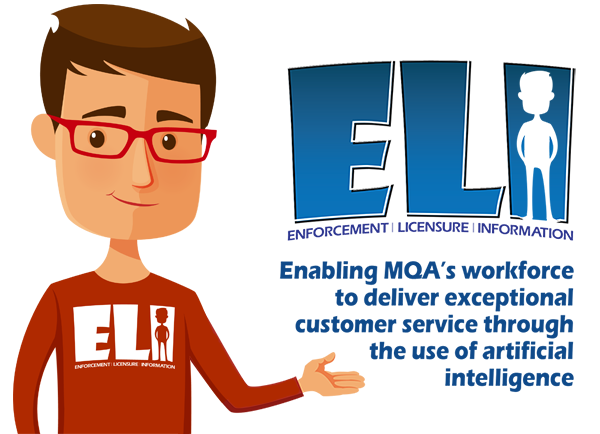 How it works
Immediate
ELI is just a tap away so that customers can get in touch from anywhere, at any time of day – chat is available 24/7.
Personal
ELI's simple, intuitive design combined with an insight engine guides users through the customer journey to create custom conversations in minutes – and it does so on any device.
Actionable
ELI takes the guesswork and waiting out of the process and navigates customers to the right answers at the right time by delivering accurate, real-time advice and direction.
Frequently Asked Questions
ELI lives on the bottom right corner of your profession's web page. To chat with ELI, click the 'chat now' button and select your profession!
There are some scenarios when the customer's needs cannot be fulfilled by ELI, such as when customers request phone calls, ask the same question multiple times, and ask questions that ELI has not yet had the opportunity to answer. In these cases, human support is required. To ensure a seamless customer transition, conversations are escalated to human agents between 8:00 AM and 6:00 PM EST. ELI is trained to learn from these transfers to better assist customers with the same future scenario.
Yes, customers can expect to interact with ELI using either English or Spanish within the year. Stay tuned for this update!
Data protection is important to MQA. As long as your device is set up securely and you take the steps to ensure your customer data is secure, then rest assured that your data is safe with us. We use protocols, systems, and security to protect our users.
No – ELI empowers MQA staff to focus on what they do best. ELI saves staff time by assisting customers with quick access to information. At the same time, ELI helps MQA make better decisions based on user-inputted information.
Ask ELI – you'll be connected to the right place!